The Inaugural Zurich "Collins Phillips Award" was presented to Ross Vanderwolf at the Anzac night event in New Orleans.
Sponsored by MDRT Platinum sponsor Zurich, the award has been named in honour of two of the Australian Advice Professions great statesman, advocates and mentors.
Russell Collins and Godfrey Phillips depict the very best of our industry, of what we provide to our clients and community.
Each has continually given back over the years, Russell especially to the AFA and Godfrey unsurpassed in his efforts for MDRT.
They are independently great achievers, they are together great friends and ambassadors.
On the event of this Inaugural award, there was no stronger qualifier as a recipient of the "Collins Phillips Award" than Ross Vanderwolf.
It is with a real sense of pride that MDRT Oceania has the honour of having an MDRT Member be appointed to the Executive Committee of MDRT.
The Collins Phillips Award
The 2016 Zurich Collins Phillips Award was presented to the following winners since its inception:
2015: Ross Vanderwolf
2016: Susan Patterson
Susan has worked tirelessly in her past role as Australian Chair and now in her role on the Program Development Committee. We would like to acknowledge and thank Susan for her continuous efforts.
2017: Ross Hultgren
2018: Stuart Farrell
2019: Joe Bongiorno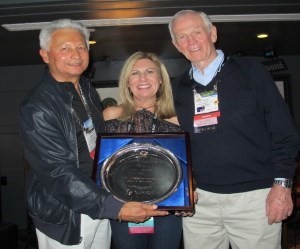 2016 winner Susan Paterson at the Anzac night event in Vancouver.
The award recognises the significant contributions made to the MDRT organisation by Australian member and their contribution to the broader financial services industry.